Make Believe Wedding – Vote
We need your help! 
We have four finalists to be our Bride and Groom for this year's Make Believe Wedding and we need you to vote for your favourite couple.
To vote, comment below with the couple's name.
Only one vote per person – we can tell if you vote more then once by your email address 😉
Here's the details: 
entry closes 7th February
the winner will be posted on our blog from 10th February
voting commences 31st January – encourage all your friends and family to vote!
winner is the photo with the most votes on our blog
The awesome suppliers involved so far:


Shelly & Nick:
We are already engaged and we are getting married later this year so this would be the most amazing dress rehearsal for us and we've totally got the "we're in love eyes" thing down pat!  Nick proposed to me on our 9 year anniversary last July and we plan on getting married on our 10 year anniversary.  We are high school sweethearts. Nick is my best friend and we have grown up together, at one stage when we were at uni we were studying the same course, working on the weekends at Bunnings and living together.




Craig & Nicole:
We have been together for 12 years, we have 2 beautiful children, 5 and 11. We are not engaged, but we seemed to do everything backwards….baby at 18, buy a house, another baby, buy an investment property…. Craigs parents aren't married, so he's never really seen the sense in us tying the knot….
Maybe a practise run might change his mind,…hahaha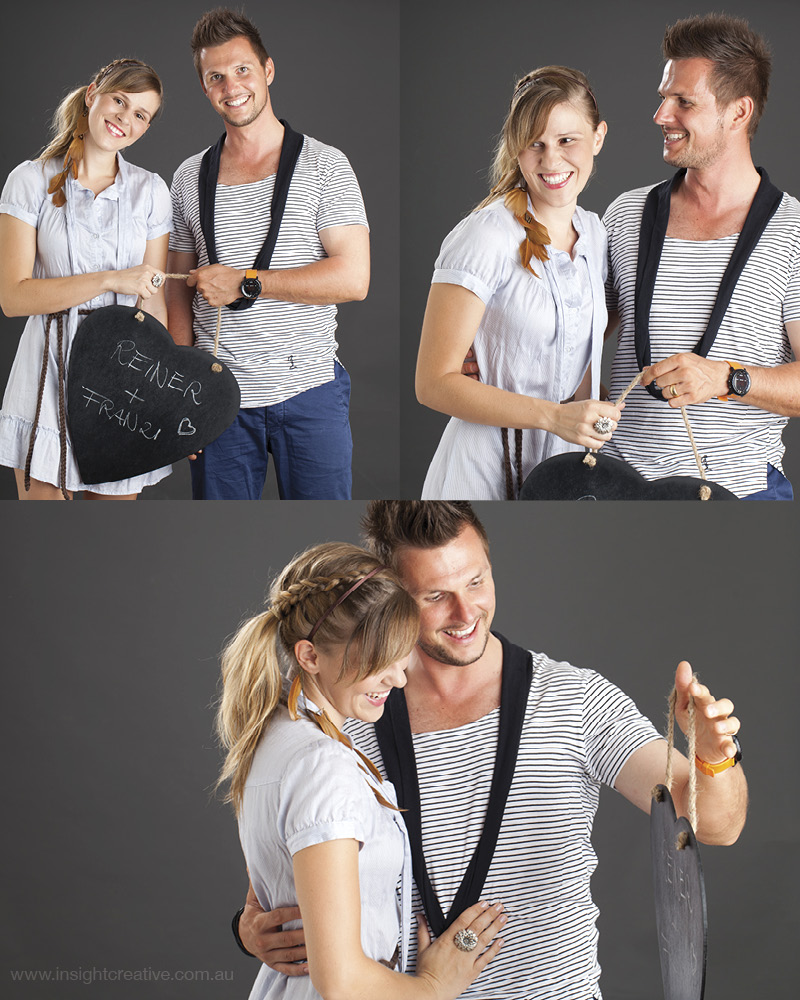 Reiner & Franzi:
I loved the photos so much from your Make Believe Wedding last year and wished I could have been the bride. My husband and I have been married now for 4.5 years, but we haven't had our white wedding! We got married in Germany at City Hall, but sadly we never made it to the church wedding afterwards because we got married 6 months before my husband moved to Australia. At the time we didn't have the money for a big wedding. Back then we thought we would have the wedding as soon as we are settled in Townsville, but now 4 years are gone, and we still haven't had that big day!
For me it would be like a dream, to wear a real wedding dress.




Ash & Drew:
We've been together almost 6 years 4 months… and yet we are still discovering new things about each other! We grow more in love with each other with each passing day. Ash even has her own shoulder on Drew (his left shoulder), where she snuggles in perfectly. We rarely use each other's first names…. and Drew is constantly coming up with new names for Ash!

To vote, comment below with the couple's name.
Only one vote per person – we can tell if you vote more then once by your email address 😉